Camera controls widget
The camera-control can be used to take a picture or toggle the audio-stream from a smartphone/tablet to the device.

Display the camera-window
Tap the icon at the top to display the camera-feed from the device in a separate, smaller, window that can be dragged across the screen.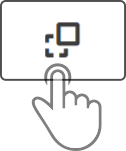 The mini-camera-view will now be shown in the top left corner of ZBOS Control, with the following operations: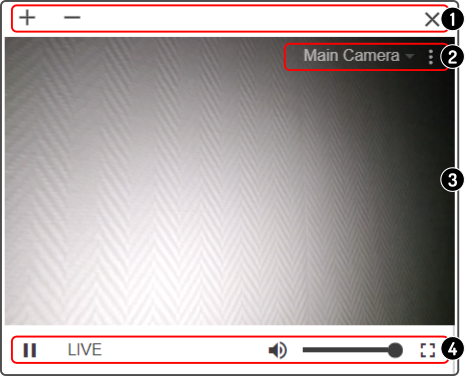 Change the output on the tablet/smartphone
Modifying the camera-window
The toolbar on the top allow the user to use the following options: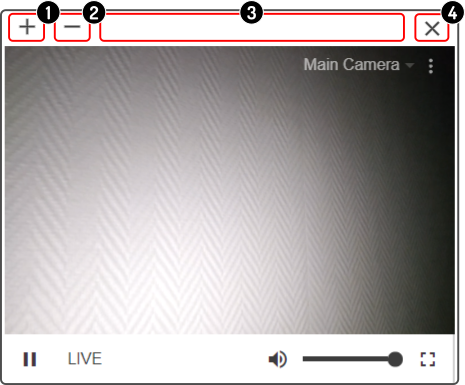 Enlarge the window

Shrink the window

Drag the window

Close the window
Enlarge the window
| | |
| --- | --- |
| | The maximum size of the window depends on the orientation (portrait/landscape) of the smartphone/tablet. |
Tap the icon
to enlarge the camera-window.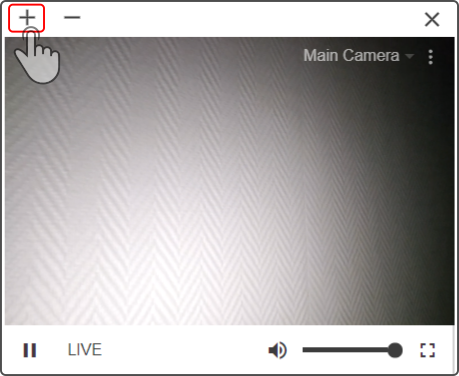 Modifying the video-feed
The following options are available for the feed sent by the device: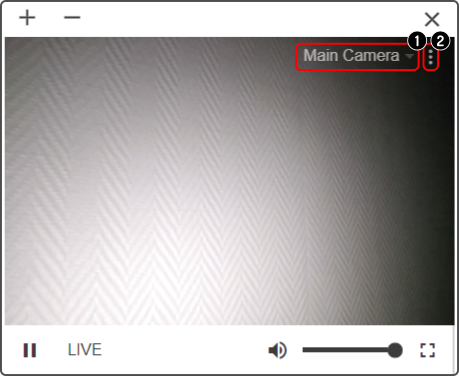 Change the feed from the device

Change the options of the feed
Change the video-source
Tap the feed-source to display a modal with the available feeds: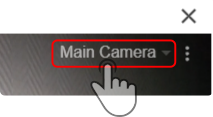 Tap the new feed in the shown modal to select it and tap the button OK to display the selected feed: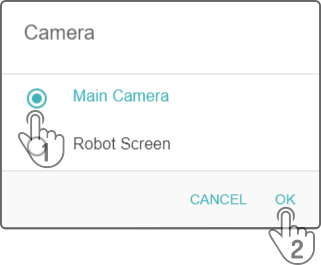 Changing the options for the output
| | |
| --- | --- |
| | To display the toolbar, tap the main video-window in the camera-section. After some time (about 2 seconds), this toolbar will be hidden from the video-window. |
The options for the output of the feed on the tablet/smartphone will be shown in the toolbar below the main feed.

Pause the feed
Tap the icon

in the toolbar of the video to pause the feed:

| | |
| --- | --- |
| | This will change the icon to . |
Resuming the feed
| | |
| --- | --- |
| | This option will only be shown if the current feed is paused. |
Tap the icon
in the toolbar of the video to view the live feed again:

Change volume
| | |
| --- | --- |
| | Changing this volume will also change the audio from the smartphone/tablet to the smart device. |
Drag the slider in the volume-section in the toolbar of the video to change the volume of the video:

| | |
| --- | --- |
| | Additionally, the volume-settings of the tablet/smartphone can also be changed to correct the audio-output. See the manual for the tablet/smartphone on how to change the volume in Android/iOS. |
Display in full screen
Tap the button
in the toolbar of the video to show the feed in full-screen:

| | |
| --- | --- |
| | Tapping this option will change the feed to full-screen on the tablet/smartphone. The option will be changed to . |
Start a two-way-video-call
| | |
| --- | --- |
| | This button will only be shown if the main camera feed has been selected. |
Tap the button
to open a video-call feed with the smart device:

| | |
| --- | --- |
| | Enable the option for the audio-feed on the device and smartphone before initiating the video-call. |