VoIP / SIP
| | |
| --- | --- |
| | This feature is currently only available on James. |
| | |
| --- | --- |
| | A valid SIP-service provider needs to supply the required credentials. ZoraBots cannot be held accountable for any service provided by external third-parties. |
Tap the option VoIP / SIP to show the configuration options for the VoIP-settings.
| | |
| --- | --- |
| | This option is only used by the Call for help item in the kiosk. This function can be linked to the button at the top of James or in the kiosk, but by default, this function is not linked. |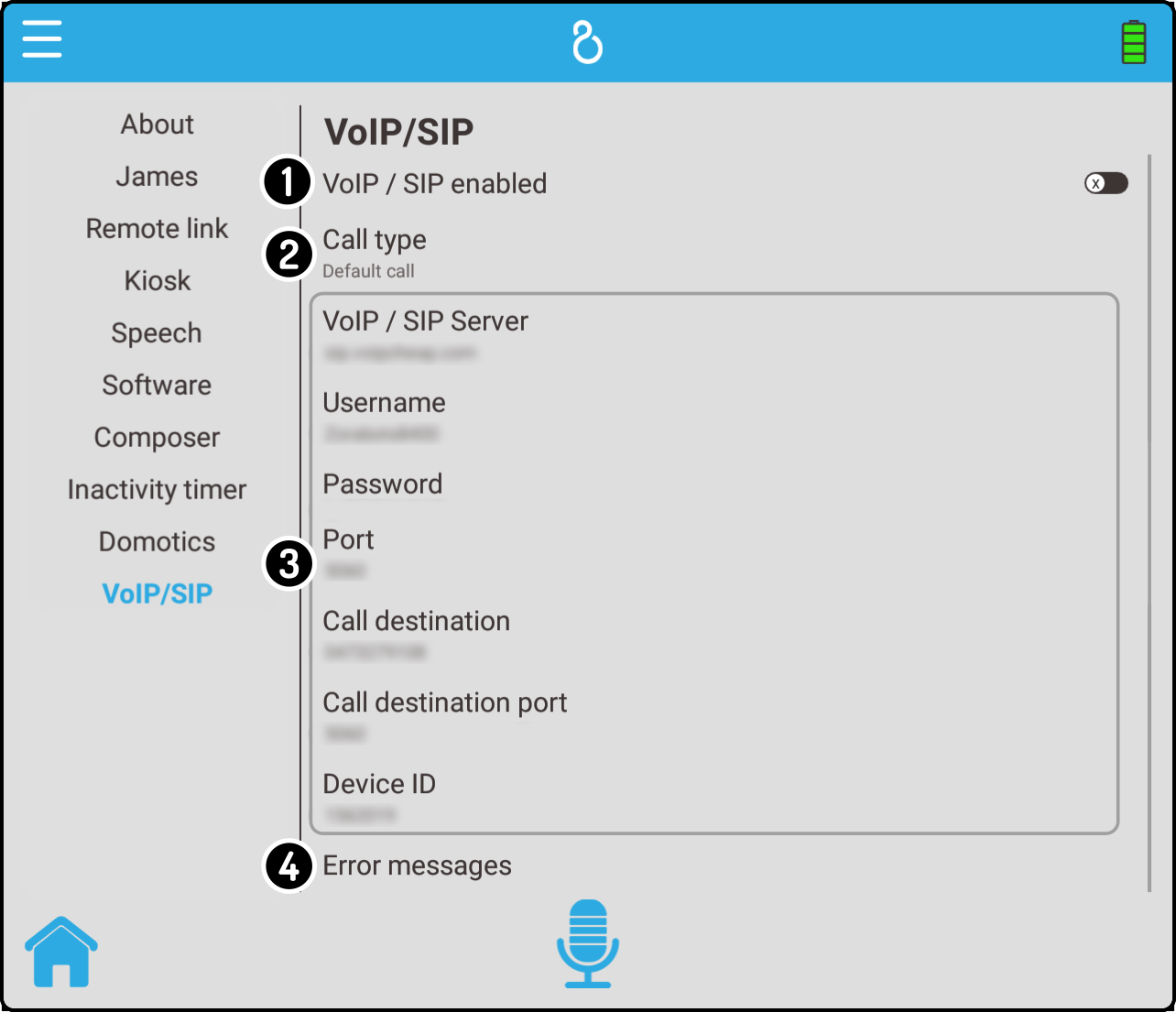 On this page the user can:
Toggle the VoIP on or off
Tap the option VoIP / SIP enabled to enable or disable the Call for help function on James.
Switch the type of VoIP-call
Tap the option Call type to select the type of call to make (primarily based on the current settings).
| | |
| --- | --- |
| | The current system only supports 2 types of calls, specifically Verklizan- and Default type calls. Most online SIP/VoIP service providers can be contacted using the Default call type. |
Enter the settings for the VoIP
Enter the credentials - provided by a support call center (e.g. Verklizan) or by an VoIP service provider (e.g. voipcheap.com) - in the required fields.
| Type | Explanation | Example |
| --- | --- | --- |
| VoIP / SIP Server | The server to contact for sending/receiving the data | sip.voipcheap.com |
| (Local Profile) Username | The username used to log in to the remote VoIP Service Center/website | abcde |
| (Local Profile) Password | The password used to log in with the Username-account | abc123 |
| (Local Profile) Port | The port number used by the remote provider to send/receive the VoIP- and credential data | 6005 |
| Peer profile Username / Call destination | The contact or service to connect to using the VoIP service(s) | zyxwv |
| Peer profile Password (Verklizan only) | The password needed to connect to the Peer contact | abc123 |
| Peer profile port / Call destination port | The port-number of the system/person to connect to | 5006 |
| Device ID | A unique identifier for the device used to connect to the VoIP service provider | 192837 |
| | |
| --- | --- |
| | When using the site voipcheap.com, make sure the setting Allow SIP Server access is enabled in the profile settings. Similar restrictions may apply to other voip-service-providers. |