List of input-peripherals
The following devices have been installed on Zora to detect input and/or its environment:
Microphones
Zora has been installed with microphones into its head in the following locations: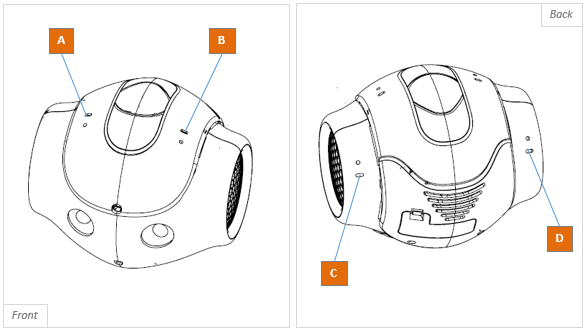 These microphones have the following specifications:
| Sensor | Specification |
| --- | --- |
| Sensitivity | |
| Frequency range | 100Hz to 10kHz (-10dB relative to 1kHz) |
The microphones have been calibrated so Zora only listens if the user is standing in front of them: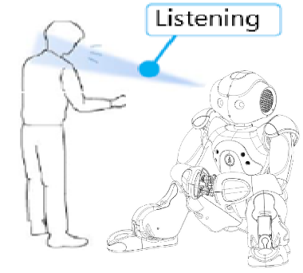 Video-camera
Zora has been installed with the following cameras: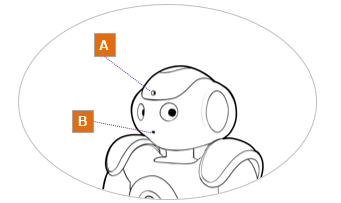 These cameras have the following specifications:
Camera

Model: OV5640

Type: SoC CMOS image sensor

Imaging array

Resolution: 5 Mp

Optical format: 1/4 inch

Active Pixels (HxV): 2592 x 1944

Sensitivity

Pixel size: 1.4µm * 1.4µm

Dynamic range: 68db@8x gain

Signal/Noise ratio: 36 dB

Responsivity: 600 mV / Lux-sec

Output

Camera output: 640*480@30fps or 2560*1920@1fps

Data format: YUV and RGB

Shutter type: Rolling shutter

View

Field of view: 67.4° DFOV (56.3° HFOV,43.7° VFOV)

Focus type: Auto focus
Force Sensitive Resistors
Zora is equipped with sensors in the bottom of the feet to detect how much force the body is exerting on the surface of the floor.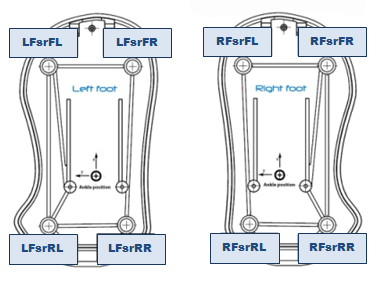 Inertial unit
Zora is equipped with an inertial unit in the center of the body to detect changes in position based on gravity.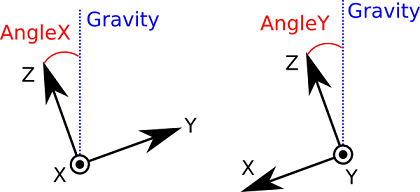 The inertial unit consists of 2 components:
Gyrometer: 3-axis, angular speed of ~500°/s

Accelerometer: 3-axis, detects acceleration of ~2g.
Ultrasonic sensors
Zora is equipped with ultrasonic sensors (sonar) in the chest to detect obstacles in front. These sensors are a set of 2 transmitters and 2 receivers.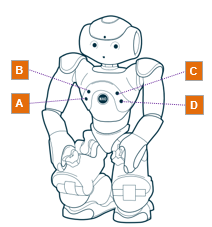 Specifications

Frequency: 40 kHz

Resolution: 1 cm - 4 cm

Detection range: 0.20 - 0.80 m

Effective cone: 60°
Tactile sensors
| | |
| --- | --- |
| | Tactile sensors only need to touched gently to send a response back to the robot. Bumpers and buttons need to be pressed to send information back to Zora. |
Zora is equipped with the following sensors that the user can touch or press: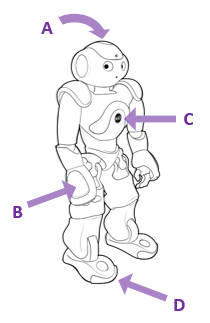 Tactile head sensors (front, middle and back)

Tactile hand sensors (left and right arm)

Chestbutton

Foot bumpers (left and right leg)